Conservatories Aylesbury
Upgrade your Aylesbury home by installing one of our conservatories. These premium builds come with a range of benefits, transforming the look and performance of a property. These bright and welcoming spaces that can be enjoyed all year round.
All our conservatories are made to measure, designed around the architecture of your Aylesbury home and your personal needs. Choose from a huge selection of colours and designs, installing an extension that seamlessly blends in with your existing architecture. No matter the colour you choose, it will be durable and can handle adverse weather conditions.
All our conservatories come with state of the art double glazing fitted as standard. This means you will enjoy slim sightlines so you can get stunning views of your garden, helping your Aylesbury home feel more connected to nature. The expansive panes of glazing does not compromise on privacy and security.
We have over three decades of experience when it comes to installing premium conservatories around the area. Use our online quoting engine today to get a bespoke price on your new double glazed installation. Alternatively, get in touch with our team and we will be happy to help you get the right extension for your Aylesbury home.
Conservatory Benefits
Natural Light
Our conservatories have been crafted using premium double glazing to flood the space with natural lighting. Enjoy a welcoming and light space to work, relax or lounge. These spaces have been designed and crafted to offer enhanced levels of insulation. This means your home will keep in warmth in winter and eliminate loud noises.
The robust thermal break will help our conservatories retain lots of natural heat, meaning you can enjoy the extension no matter the weather outside. Because of this feature, your conservatory will be thermally efficient and cost efficient to run. You could see your energy bills improving and the carbon footprint of your Aylesbury home minimised.
Connection to the Outdoors
Conservatories make a fantastic connection between an Aylesbury home and a garden. Crafted with robust framework and slim sightlines, they can offer stunning views to your outdoor space. Even when it's too cold or wet to sit outside, you can enjoy clear views over your garden.
Gone is that stuffy, greenhouse feeling that conservatories are famous for. Our conservatories will bring fresh air into the home and will keep the area ventilated in the summer months. This will make you feel like you are enjoying a warm summers day without needing to leave the comfort of your own home.
Additional Living Space
Conservatories are a fantastic addition to any home in the Aylesbury area, boosting the market value of a property. They are designed around your requirements and existing architecture. You can use your conservatory for a range of reasons, from a kitchen and lounge to a workspace or a playroom. There are infinite possibilities when it comes to designing and decorating your new space./p>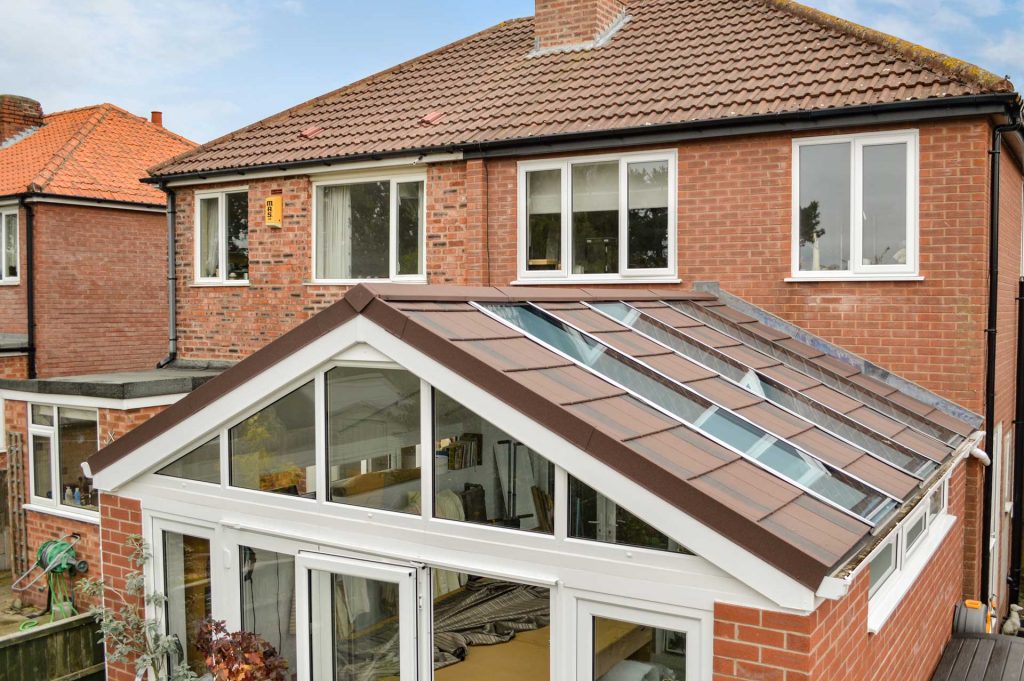 Thermal Efficiency
With the cost of living on the rise, it is important that any double glazing installation is thermally efficient. All our conservatories come with outstandingly low U Values. This space will retain natural heat in the winter months, helping homeowner retain heat within their property. They could lead to lower energy bills and a more sustainable property.
Why Choose us?
At Warm Conservatory Roofs we have over 30 years of experience in the industry. You can put your trust in our team to deliver a market leading level of customer service. We treat every customer as an individual and design our conservatories around them. All our conservatories are crafted using premium products to ensure they are long lasting and low maintenance. These conservatories are a fantastic investment for any home.
We understand that adding a conservatory is a large home improvement project that can cause a huge upheaval to your day to day life. That is why we offer swift lead times and cause as minimal disruption as possible. We will work as efficiently and professional as possible, treating you and your Aylesbury home with courtesy and respect.
From the moment you get in touch through to installation, we will be on hand to deliver made to measure and high quality conservatories. Use our online quoting engine to get a price today.
Conservatory Prices Aylesbury
Use our online quoting engine to get a free bespoke price on your new double glazed installation. We will help you create every aspect of your design, simply input your specifications and preferences and we will generate a bespoke quote tailored to your home improvement project.
Alternatively, you can get in touch with us via our online contact form or call us on 01280 817095 and our friendly team will be happy to answer your queries and offer impartial advice.