Conservatory Roofs Milton Keynes
Upgrade your Milton Keynes home with our stunning conservatory roofs. When your property is feeling too hot, cold or noisy, it is time to replace your existing roof. Our high-quality products will bring you an array of benefits, including enhanced insulation, weatherproofing and design.
Our conservatory roofs can be tailored to complement your home's aesthetics. We have a range of tile and glass options for you to choose from. Each of our products is the perfect blend of performance and design. They are a worthwhile investment which will maintain secure your Milton Keynes home and increase its market value.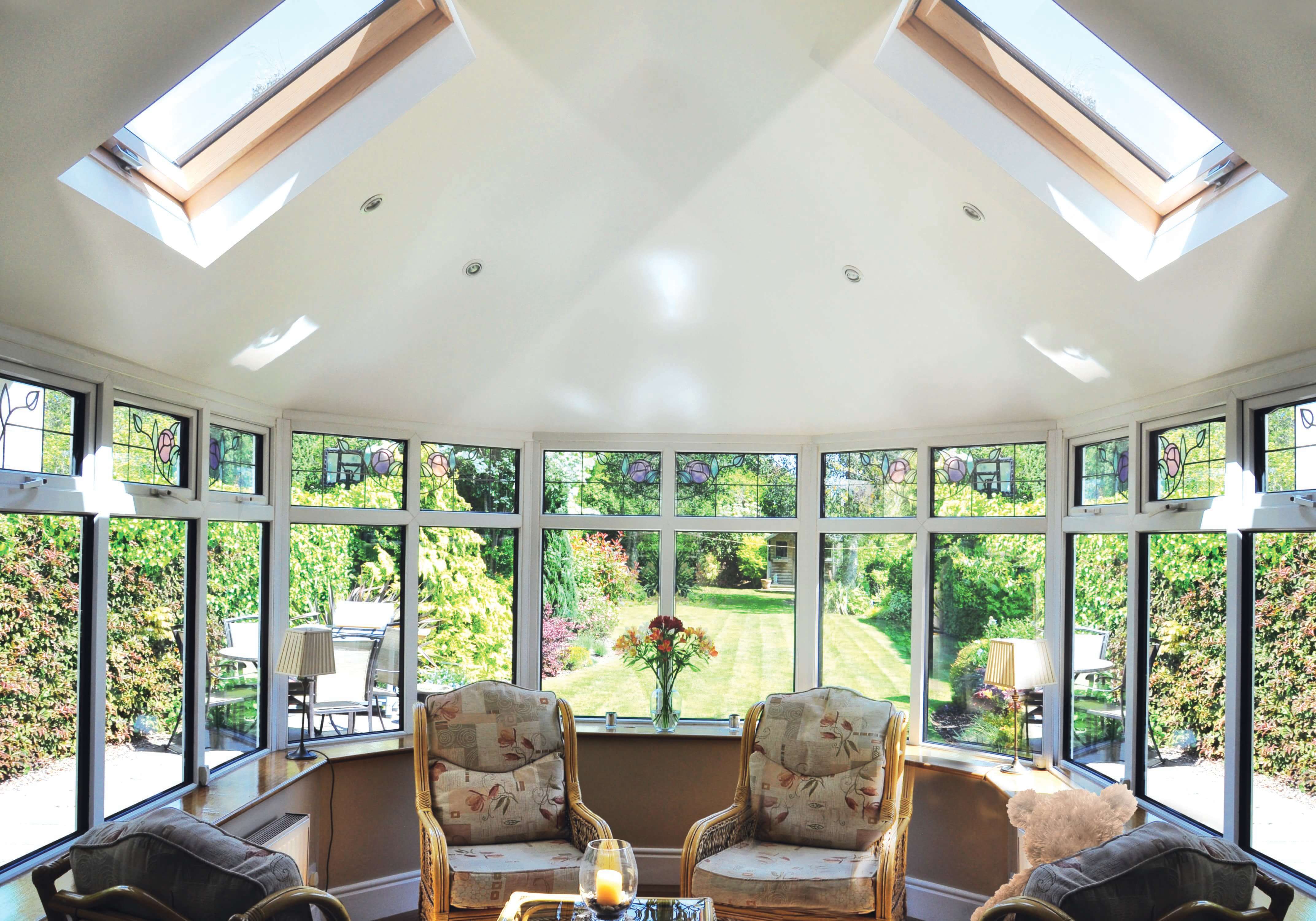 Here at Warm Conservatory Roofs, we are your local experts with over 30 years in the industry. From digging the foundations to installation, we know everything about conservatories. We install conservatory roofs to bring life back to your home. Get your free quote today using our online quoting engine.
Conservatory Roof Styles We Offer
Glass Conservatory Roofs
Our glass conservatory roofs are perfect for homeowners in Milton Kenynes that want to make the most of their surroundings. Flood your Milton Keynes home with natural daylight and enjoy the endless views of your garden. The effective double glazing will keep your home warm all-year-round, making it the perfect living space for any property.
Tiled Conservatory Roofs
Our tiled conservatory roofs are a lightweight yet robust solution. We fit many insulating materials, including 125mm insulating board, plywood and vapour membrane. You can benefit from a warm Milton Keynes home throughout the year. The tiled conservatory roofs also offer extra privacy for your property.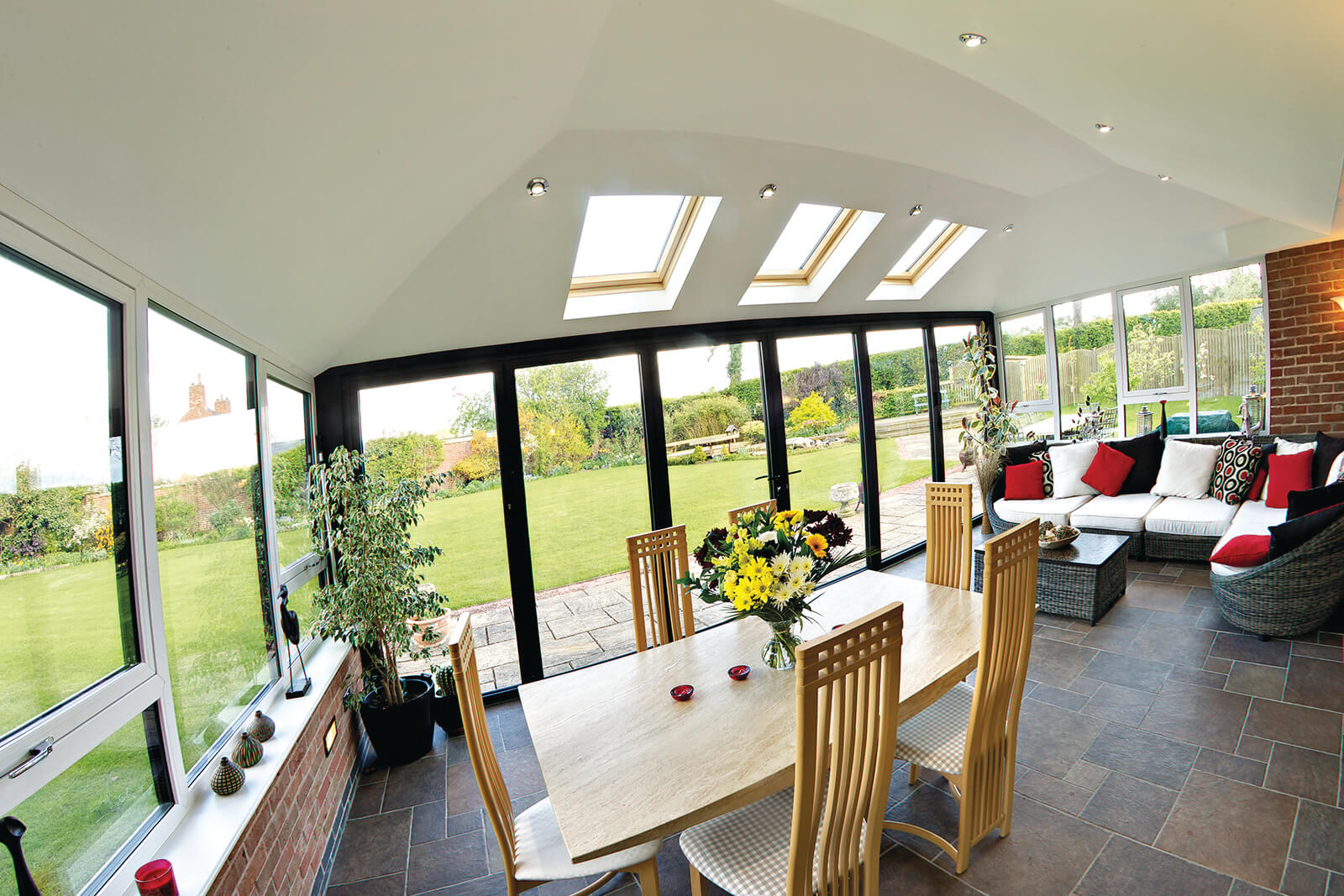 Conservatory Roof Benefits
Thermally Efficient
We understand the importance of keeping your Milton Keynes home warm throughout the year. Our fantastic range of conservatory roofs will keep your property correctly insulated. You can keep warm in the winter and cool in the summer. Our collection can achieve an exceptionally low U-value of 0.18W/m2K, meaning a reduction of heat transferring outside.
The high thermal performance of our products will reduce your need to use your heating. You can save money on your energy bills and reduce your carbon footprint. This cost-effective investment will keep your property warm for years to come. Both the glass and tiled conservatory roofs offer several insulating mechanisms that you can rely on.
Weatherproof
Even in the most extreme weather, our products will keep your Milton Keynes home secure. The tiled profiles' lightweight qualities are durable and robust; they will prevent unwanted draughts and water ingress from entering your property. You can relax knowing that our installations are designed to protect you from all elements.
Our conservatory roofs go through condensation testing to ensure that our products will help you to maintain your property. The prevention of condensation will reduce the risk of damp on your interior walls. The low upkeep of our conservatory roofs is an attractive feature to Milton Keynes homeowners.
Versatile
Each of our conservatory roofs is made to measure and can seamlessly fit onto any conservatory styling, including P-Shaped and Edwardian. Our tiled conservatory roof can have glass panels added so that you can embrace the natural daylight and create a warm and cosy environment.
Our conservatory roofs not only provide enhanced aesthetic to match your existing room but provide it with unrivalled performance. We offer a comprehensive service, from quotation to installation you can contact us with any questions you have. You can trust us to carry out your home improvements project.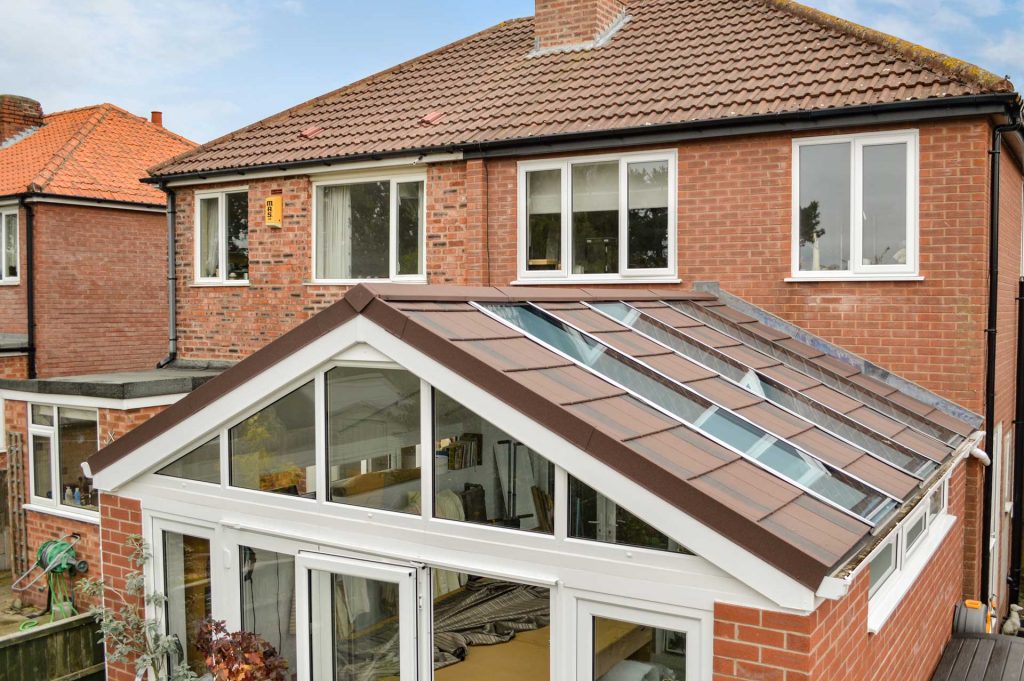 Why Choose Warm Conservatory Roofs?
With over 30 years in the industry and industry-leading suppliers, we are confident that we will provide you with excellent service. Our installations are carried out efficiently and professionally, with minimal disruption to your daily life. We at Warm Conservatory Roofs focus on supplying our customers with the best possible products, and our conservatory roofs are no different. We aim for the best results and we aim for the best customer service to provide our clients with the best experience.
Each installation comes with a ten-year guarantee, in the unlikely event that something goes wrong, we will be on hand to help.
We are here to offer guidance on what will be best for you and your Milton Keynes home from start to finish. You can be assured that you can contact us with any questions that you have about our home improvement services.
Conservatory Roof Prices Milton Keynes
Transform your home in Milton Keynes with our excellent range of conservatory roofs. Get your free quote today using our handy online quoting tool. All you need to do it choose your design and enter your house dimensions. We will then offer you a bespoke no-obligation estimate.
Alternatively, you can get in contact through our online contact form. A member of our friendly team will answer any questions that you may have. If you prefer to speak to someone directly, you can give us a ring on 01280 817095.